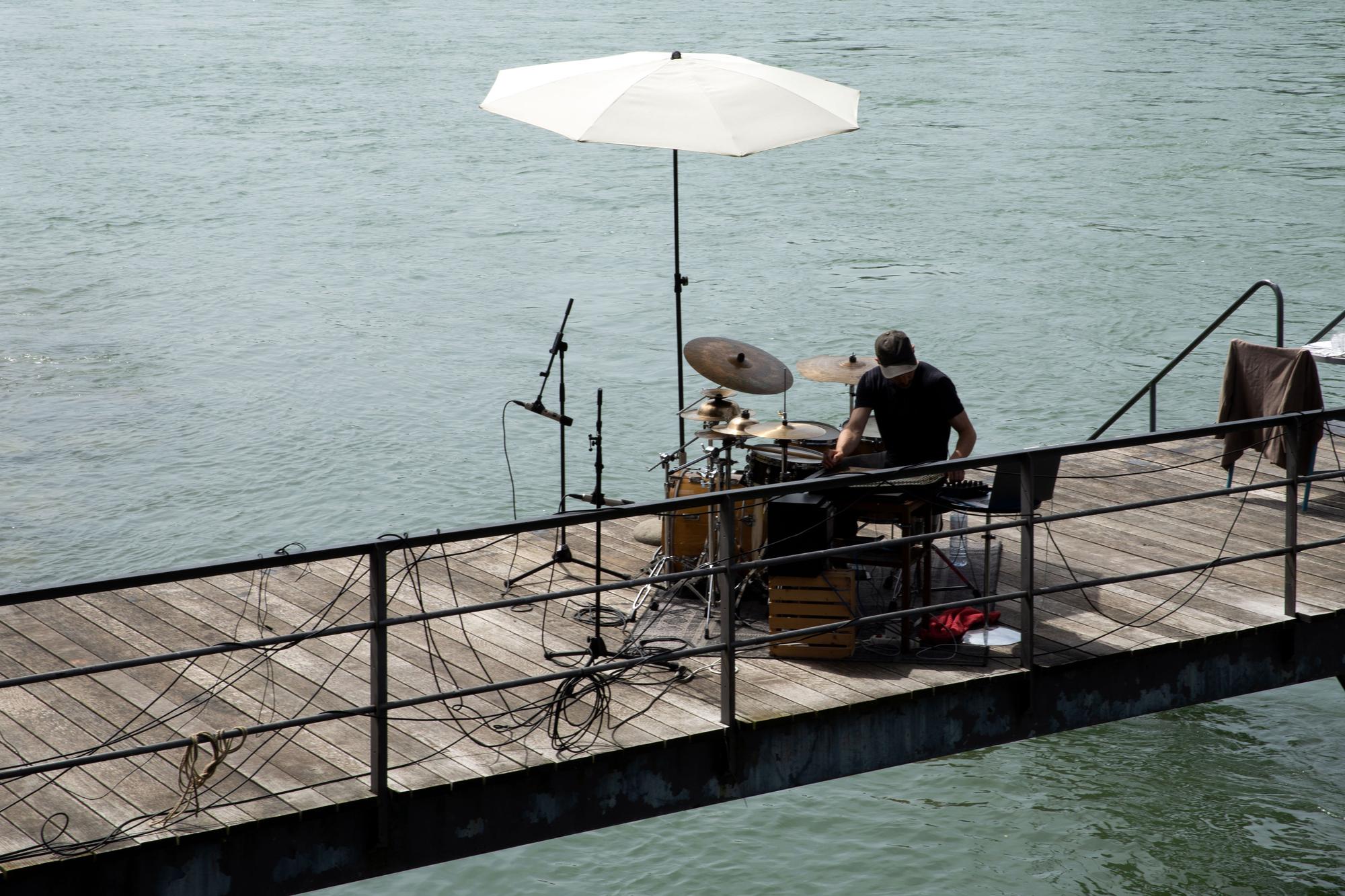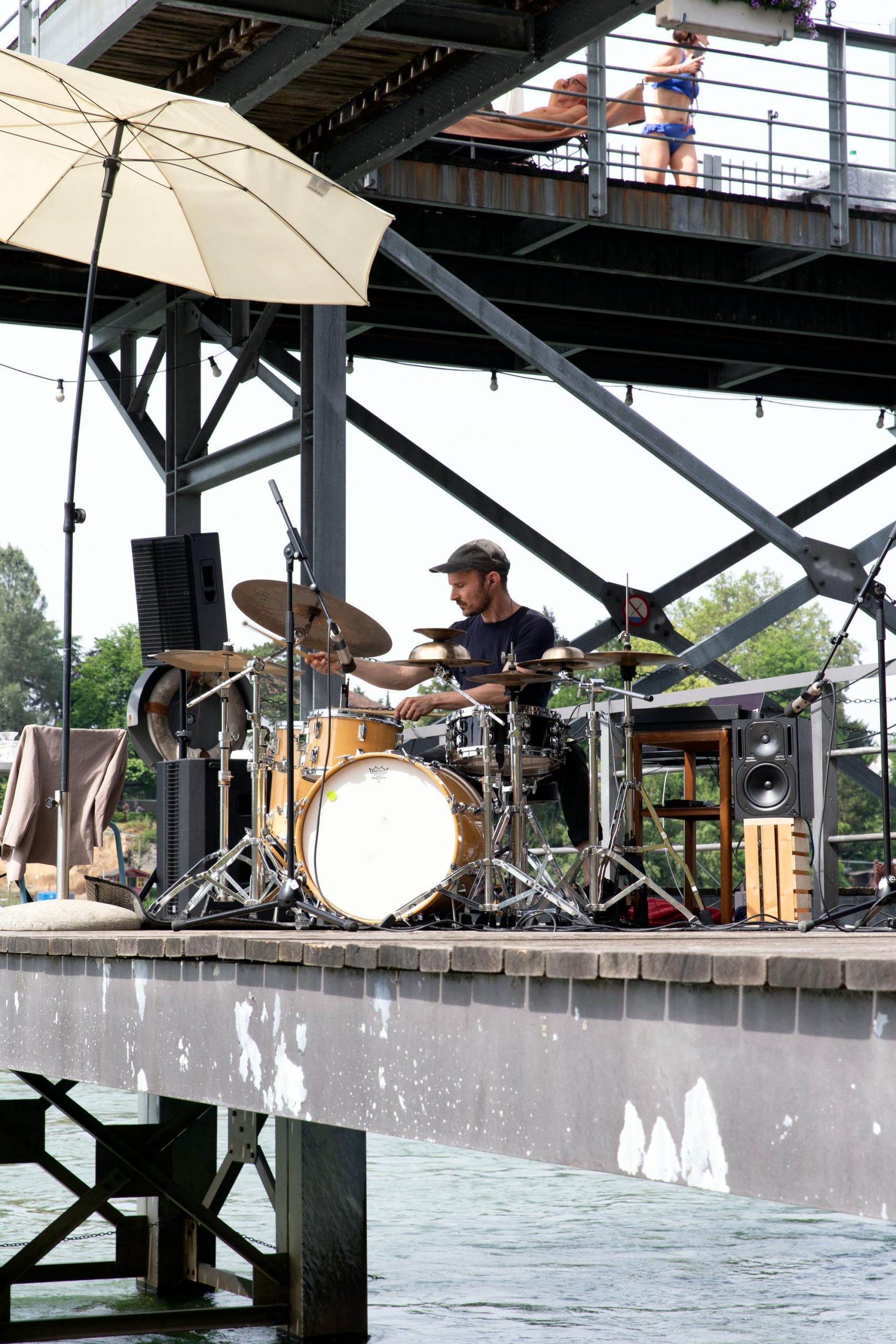 SIDE PIECE  (video by Judith Kakon)
for performer in open air
Marina Rosenfeld, 2021
Vertice
5, 8, 8, 5, 2, 4
Fountain
8, 8, 9, 11, 9, 8
Receiver
5, 5, 7, 8, 11
Buffer 1,2,1,1,1, 2, 1
Side Piece was elaborated together with Marina Rosenfeld and has been played as part of the event "take me to the river where happyness comes in waves" out on the river. The piece is inspired by the artists installative works.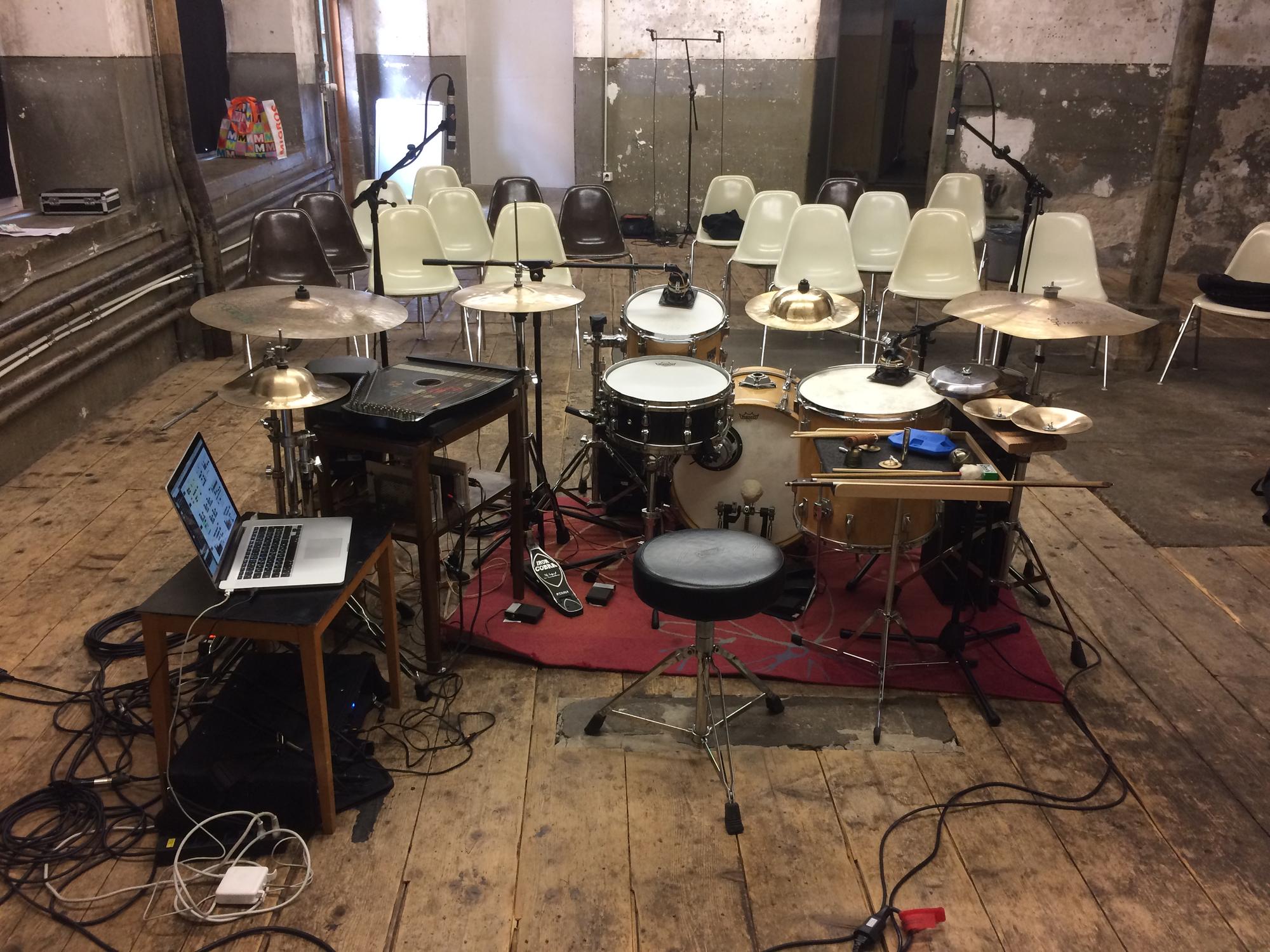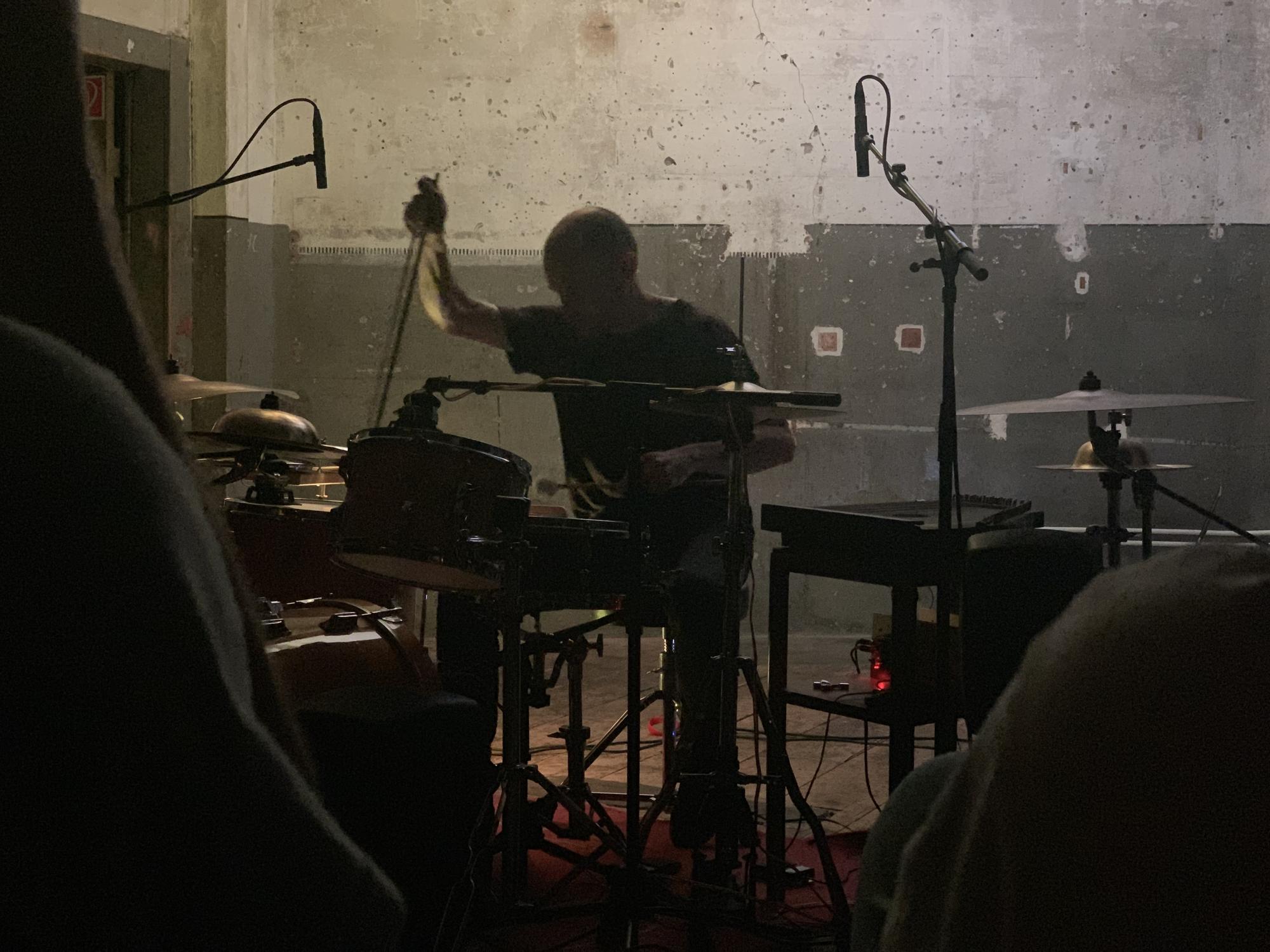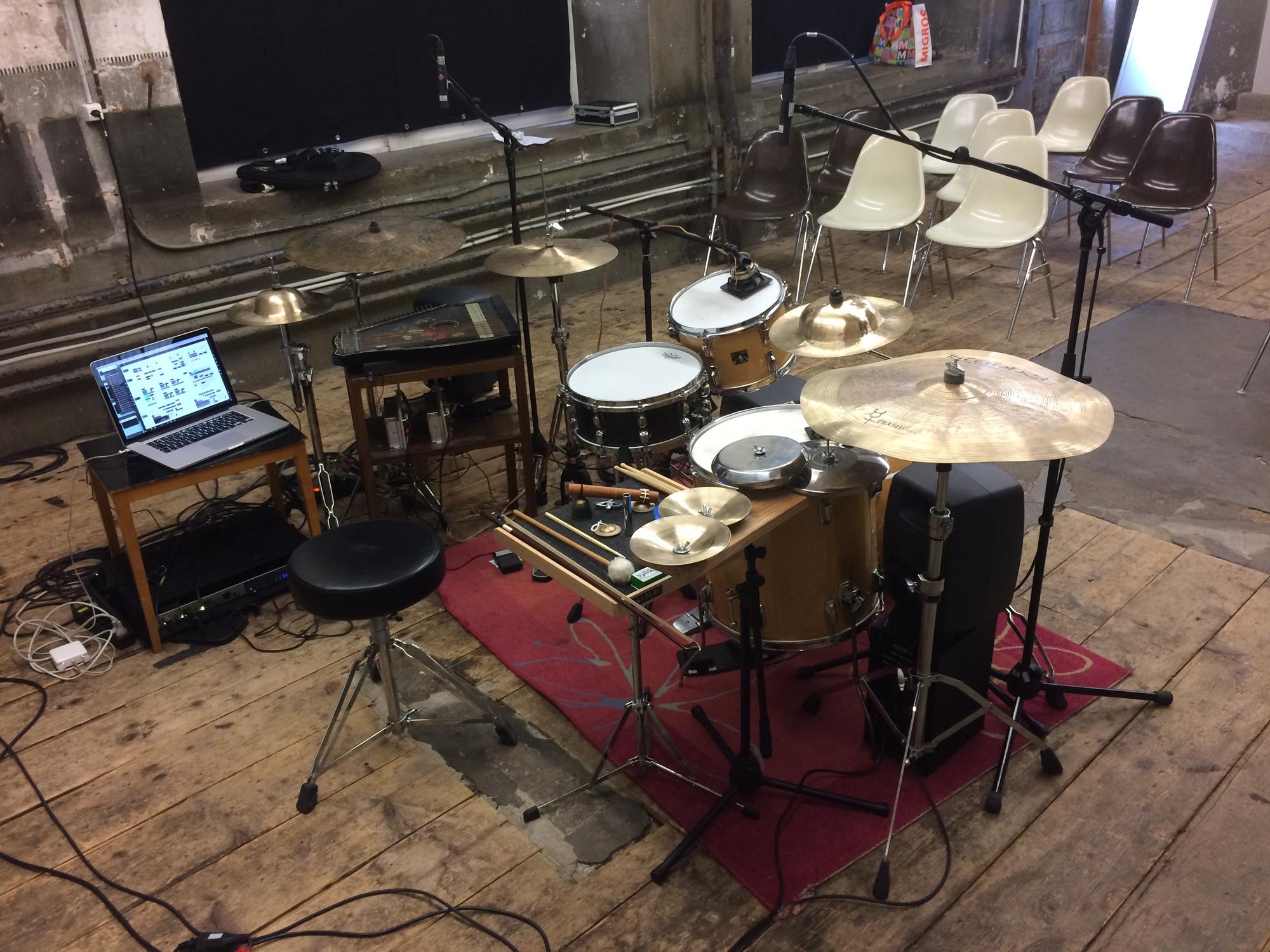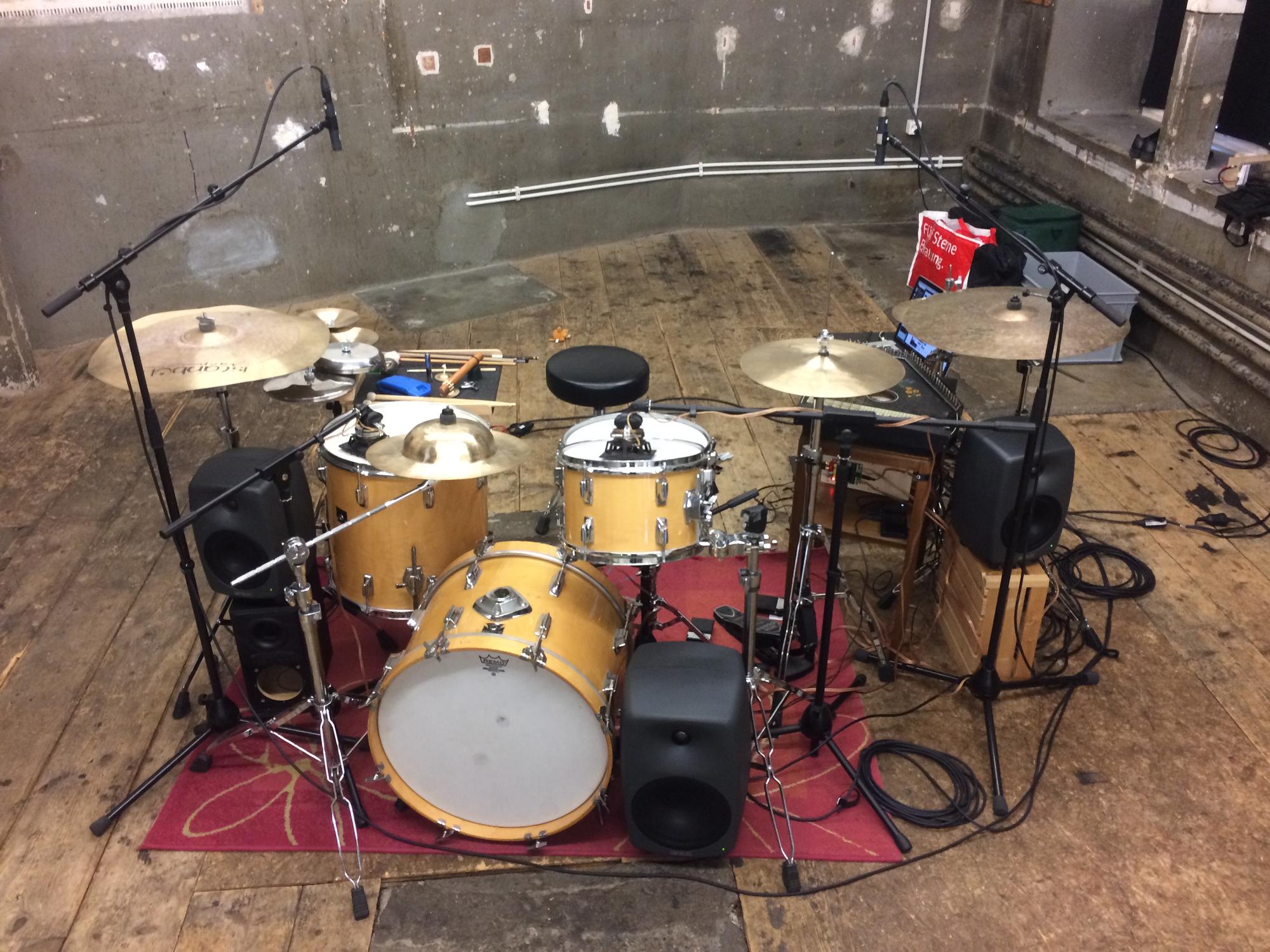 DRUM SET | DRONE SET
Composition for Drums & Speakers
Concept, Composition, Sound Design, Drums: Steve Valentin
Concept, Composition, Drums: Steve Valentin
Regionale 21
mittagspause.aif as part of an Installation by Johannes Willi at the Regionale 21 at Kunsthaus baselland.
Timeline Variations
Timeline Variations is a 5 track EP that originates from a collaboration between Miao Zhao and Steve Valentin. It was released 2019 and is available for download on Bandcamp and can be streamed via Spotify and other streaming platforms.Your content goes here. Edit or remove this text inline or in the module Content settings. You can also style every aspect of this content in the module Design settings and even apply custom CSS to this text in the module Advanced settings.
Zeitfalle
Zeitfalle is a 4 track ep produced by Steve Valentin. It was released 2017 and is available for download on Bandcamp and can be streamed via Spotify and other platforms.
Assemble
Assemble is a 3 track ep produced by Steve Valentin. It was released 2015 and is available for download on Bandcamp and can be streamed via Spotify and other streaming platforms.
Transcription
Transcription is a single track that has been produced for release on tape on the pop-up label "work it out out" (berlin) in 2014.
Schindler Visitor Center
The collaboration at the Schindler Visitor Center in Ebikon was commissioned by Idee & Klang.
The task was to interpret the dramaturgies and concepts of the individual installations on site using Open Sound Control messages, resp. to synchronize the timing of the audio playback with the installations. The implementation was preceded by a lengthy planning phase in which various concepts were thought out, tested and finally realized with Max/MSP within Ableton Live (Max4Live).
In a multi-channel environment (with up to 180 channels per set), the ability to create smooth transitions between idle and active modes, to follow non-linear scene progressions, and to create precise transitions between rhythmic elements in a non-quantized environment that is necessarily flexible in terms of time required a great deal of flexibility within the clear structures of Ableton Live.
Eigenanalyse
Eigenanalyse (working title) is a project developed with Robin Michel, which deals with a tonal kind of "self-analysis".
The analysis of the self is not only for me personally a topic that apparently has a character of omnipresence. Also in various scientific fields – not to forget that of public life – it shines through constantly somewhere and often even seems to be the basis of any perception or action.
Intrigued by this idea, our work refers to the principle of the homeostat and in this way determines its own course from its own behaviour.
With transducer and contact microphone we provoke feedback on a 2×1.5m steel plate. Interposed is a software programmed in Max_MSP, which constantly analyzes the feedback. The analysis refers to a selection of previously produced (FFT) filter templates (reaction/oscillation of the plate in different frequency ranges), which in turn it searches for in the incoming audio signal. The system has several (currently four) channels available, each of which functions as an independently adjustable input/output.
If a currently loaded filter "form" is detected in the incoming audio signal, the system checks it for its proportion in the signal and adjusts it up or down as required. If the template cannot be recognized as a shape in the signal, it is replaced by the system with a new one.
The sum of the modulated signal is fed back into the input, which is analyzed again, etc. This cycle can be heard on the surface of the record as a complex, endlessly evolving sound layer.
Our goal was not to use existing audio material or sound generators for this work, and only to work with the material's own resonances; development and form progression feed on one's own existence.
If there is enough space, the work can also be extended to two plates.
L' Europe Sauvage
Live Foley, Drums and Electronics for Film together with Pascal Viglino and Katyhuska Robinson for a staging by German choreographer Joachim Schlömer.
3AM
Video Collage for christmas light chain, quiet road and residential building facade.
Super Market Mother Ship
Super Market Mother Ship is an attempt to reconstruct an acoustic experience made in a supermarket. The 6 channel audiovisual installation generates a complex drone through layering and reflection. Every speaker plays back the sound of a refrigerator which was recorded onsite in the specific supermarket. The original refrigerator is shown on a screen.
Through its own lulling sound and the altar-like staging of the screen, the picture almost reaches a sacral state that is only disrupted once in a while when somebody opens the refrigerator door to grab a pack of frozen peas.
Klavier & Metall
Four metal plates are being put to vibrancy through attached exciters. The exciters are sending a single sinewave to each plate. Every plate responds in a certain overtone spectrum and therefore creates complex sound structures once the according sine frequency is being transmitted to the plate. The sounds created by the plates are being layered to one big structure during a short composition. The piano serves as an additional resonance body or "sound effect".
Sun
The national solar observatory has installed its equipment on six different locations on planet earth's surface. This equipment generates pictures of the sun's surface: every minute one picture.
The pictures are being taken through different filters, whereas, amongst others, the h-alpha filter shows the surface in a visible light spectrum.
A selection of these pictures, downloaded from the observatory's web page and then merged into a film sequence generate this 15 minute film, which shows the earth's rotation cycle around the sun from january 1st, 2014 to february 30th ,2014 and the sun's surface activity during this period of time.
An audible interpretation of this activity is being generated through an analysis of the picture mixed with the suns sonicated pulsative movement sound.
Multichannel Audio-/Scene Player with flexible integrated OSC handling (under development)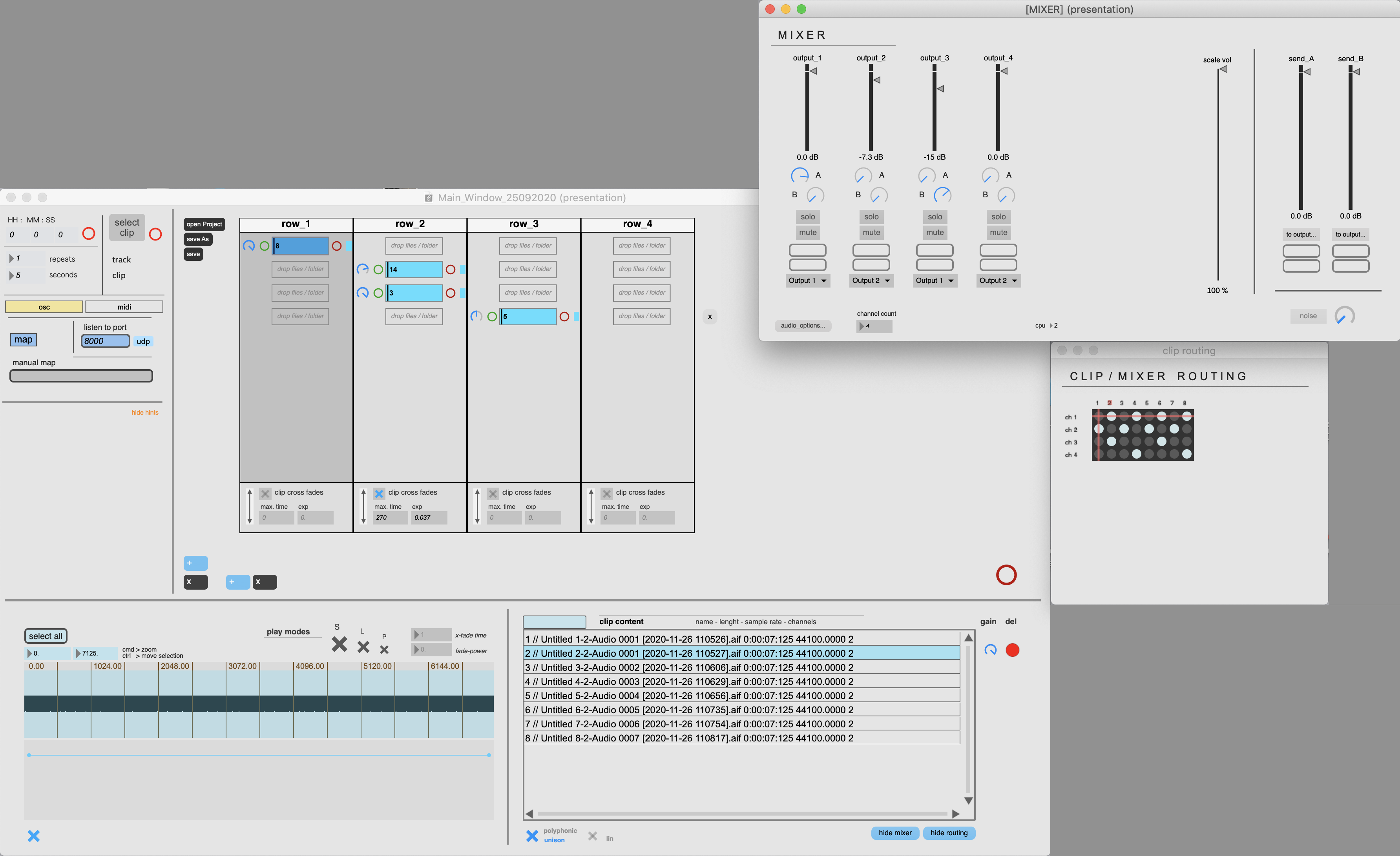 main window, channel window & routing matrix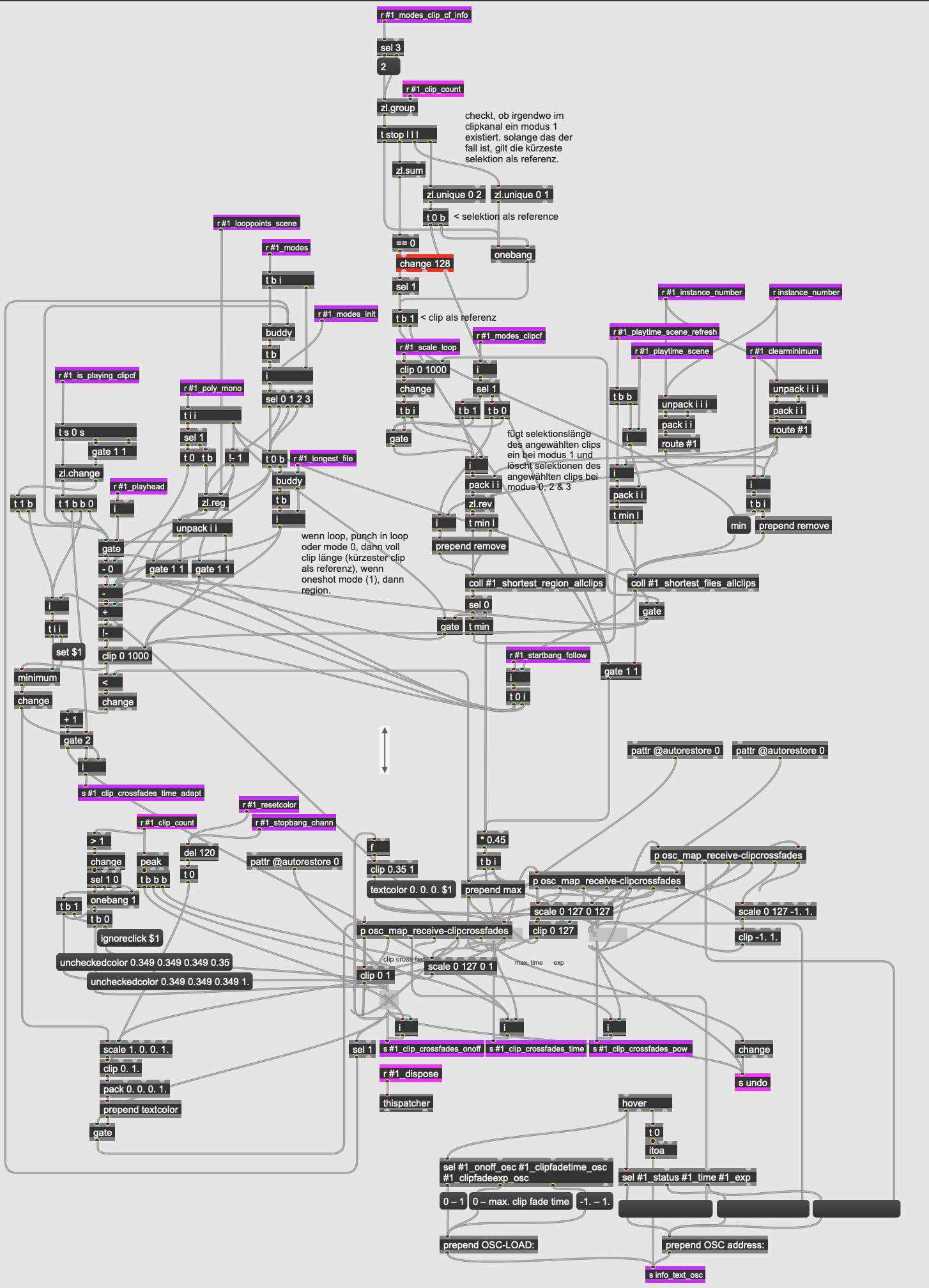 "scene crossfade" priciple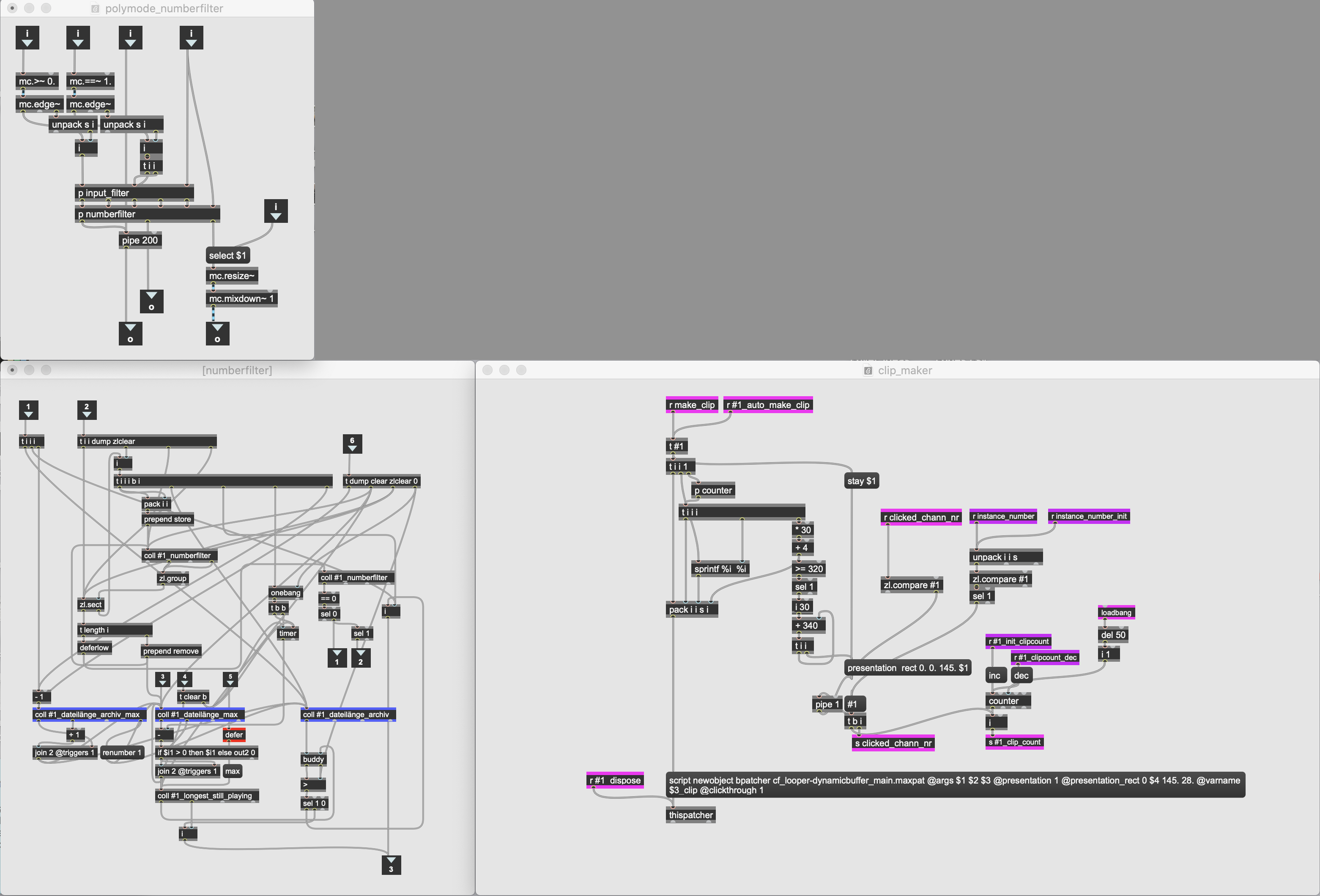 excerpts
concept, design, programming: Steve Valentin & Robin Michel
Max4Live devices for creative OSC handling inside Ableton Live

throughput tester and simple scene launcher

volume control device, controlls volume of all channels with slave device (right).

cross fade device, makes channels or grouped channels with added slave devices (right) cross fade with each other over a definable time frame.

autoplay devices, starts szenes or groups at application launch.
concept, design, programming: Steve Valentin, on behalf of Idee&Klang
Max4Live devices and Ableton Live design for Schindler Visitor Center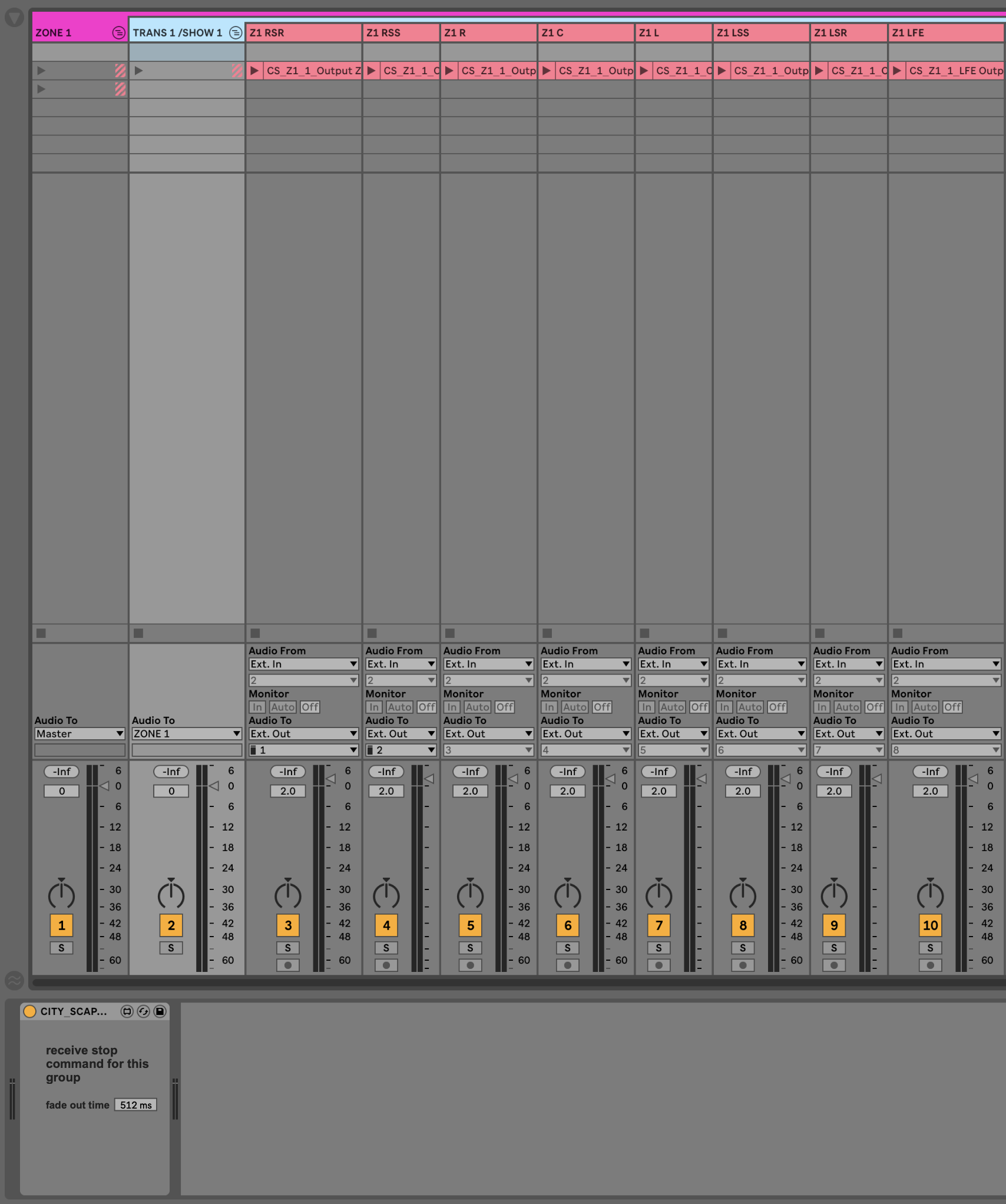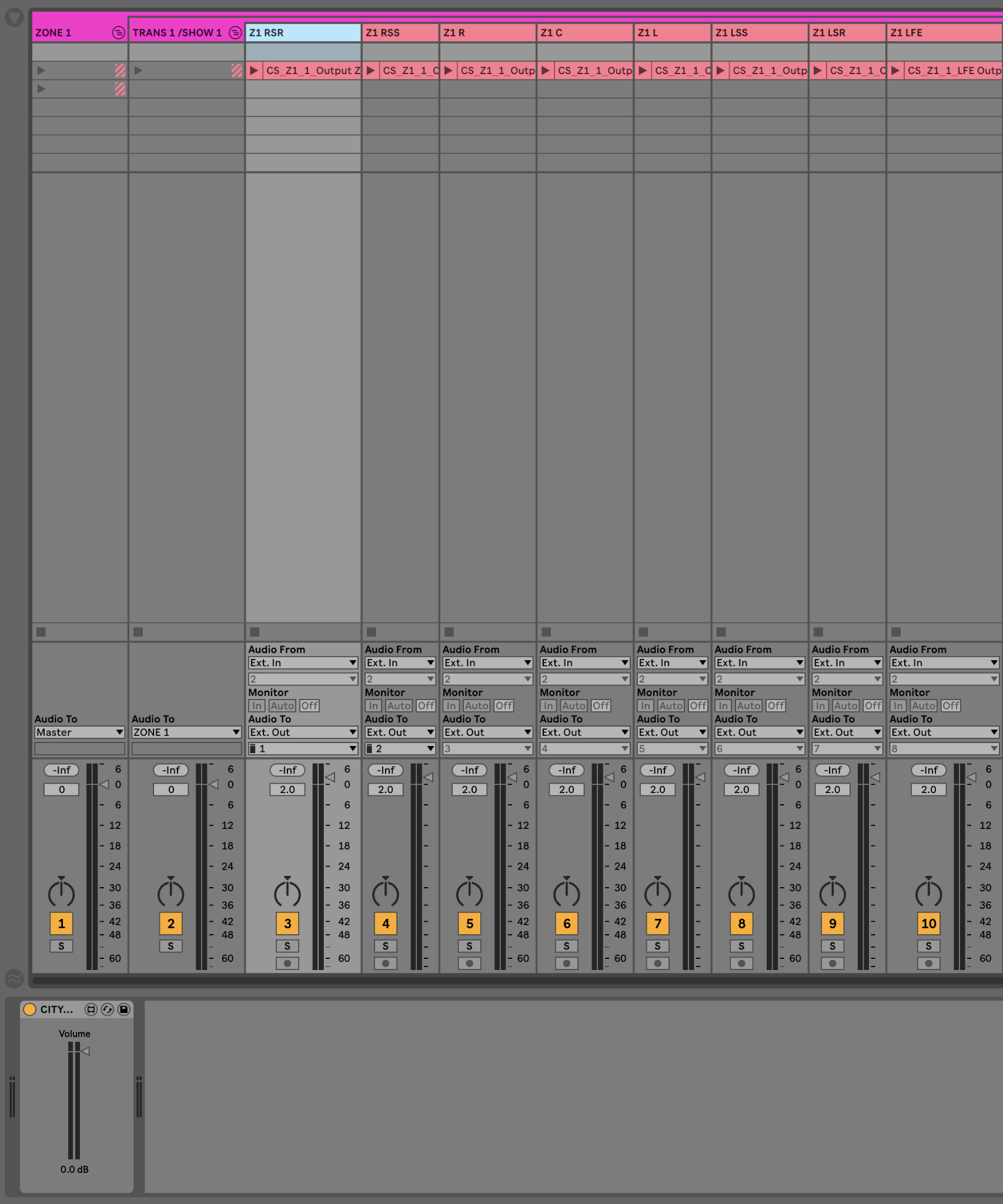 Ableton Live Session with groups, subgroups and channels equipped with master and slave devices
for multichannel scene changes via OSC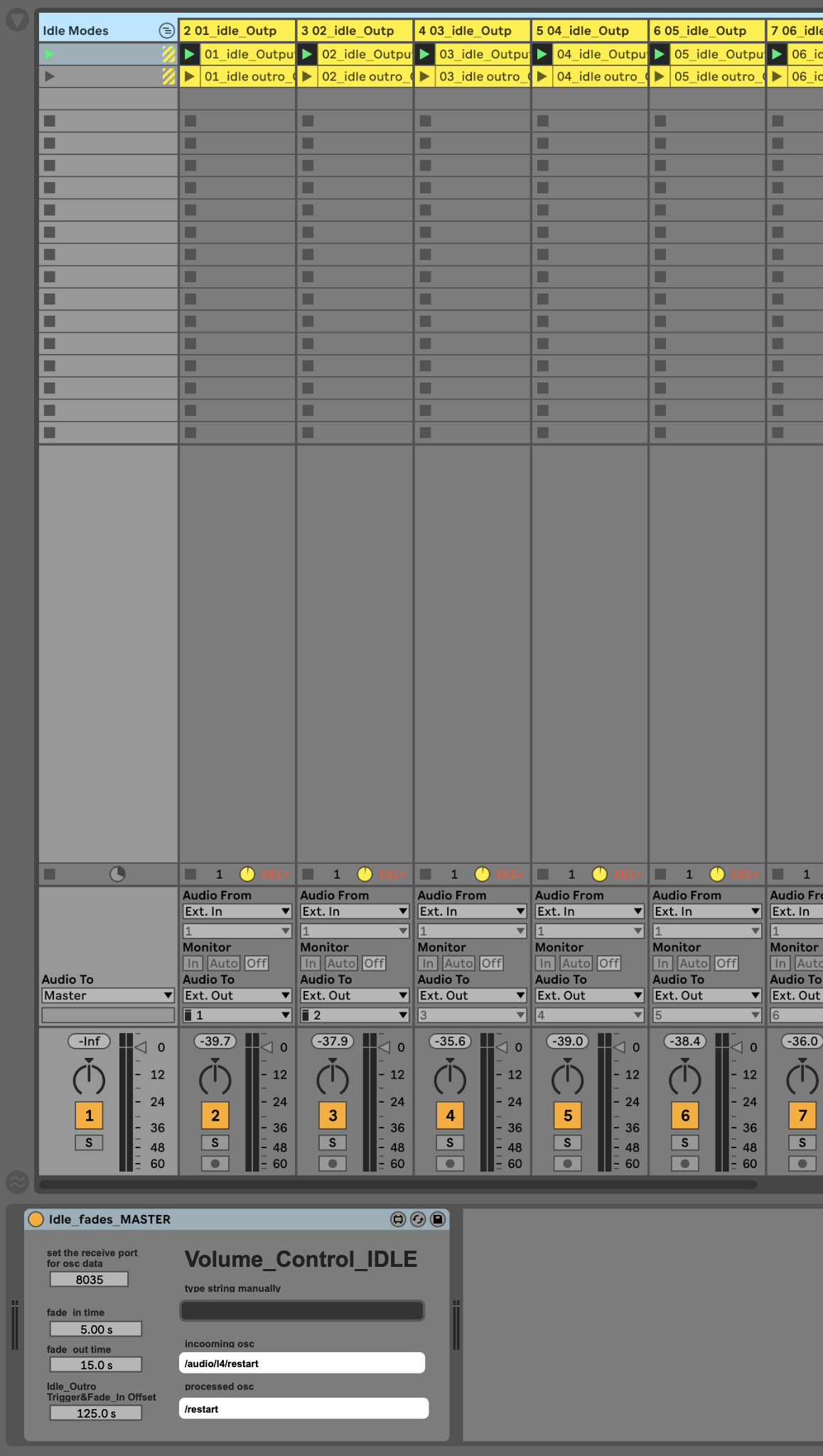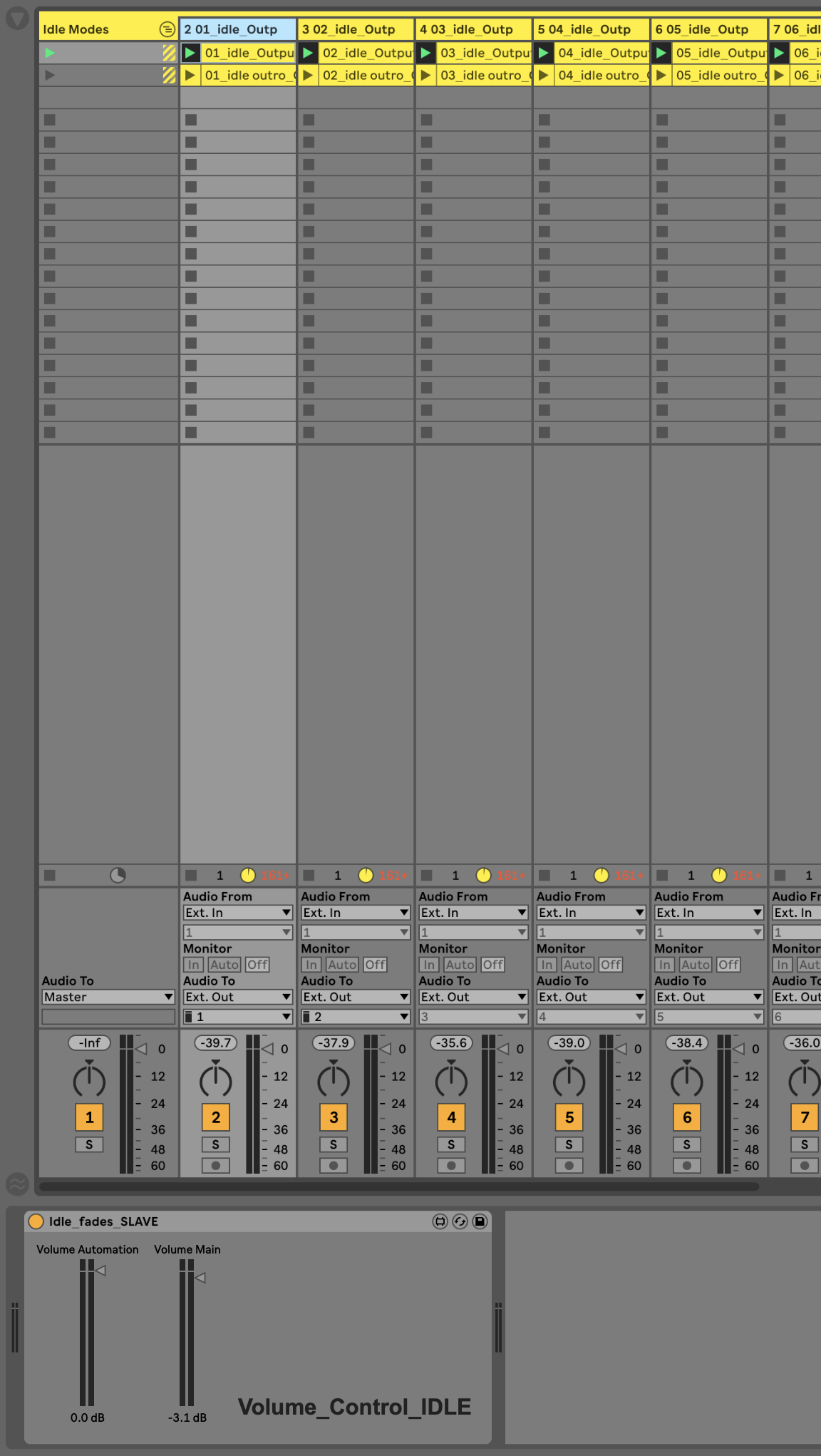 trigger device receiveing OSC from an interactive table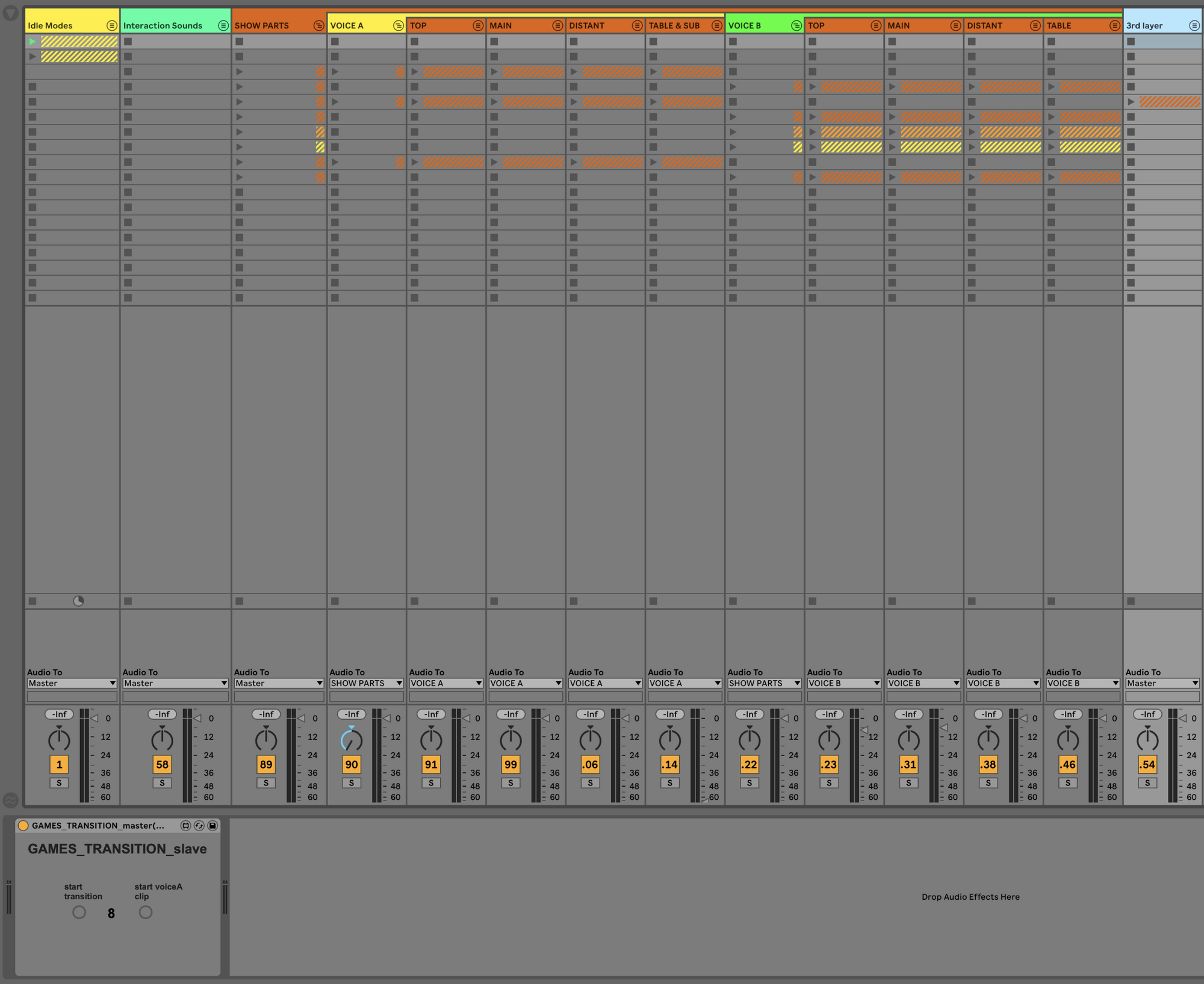 layout of cross fadeable sub groups with additional transition layer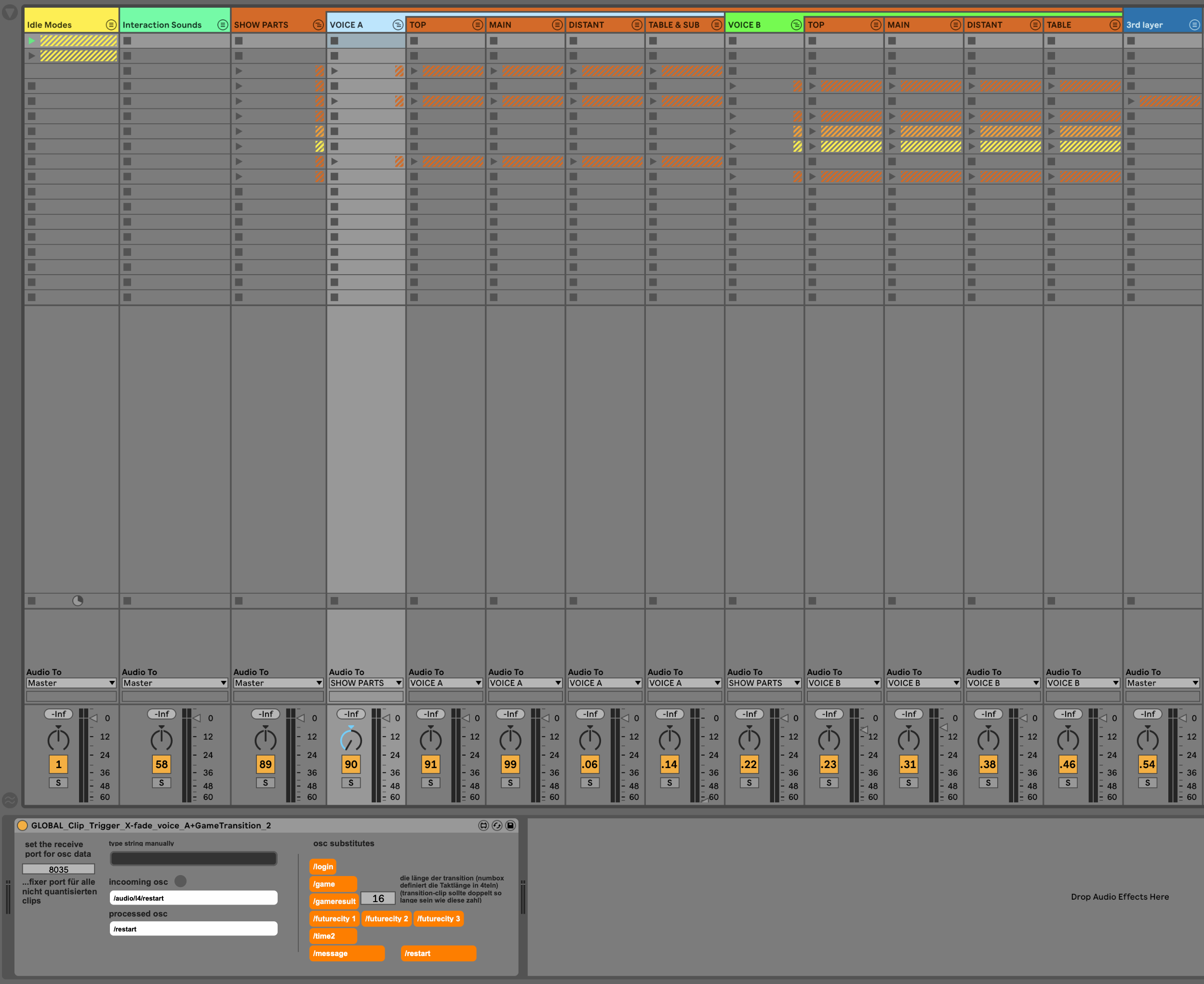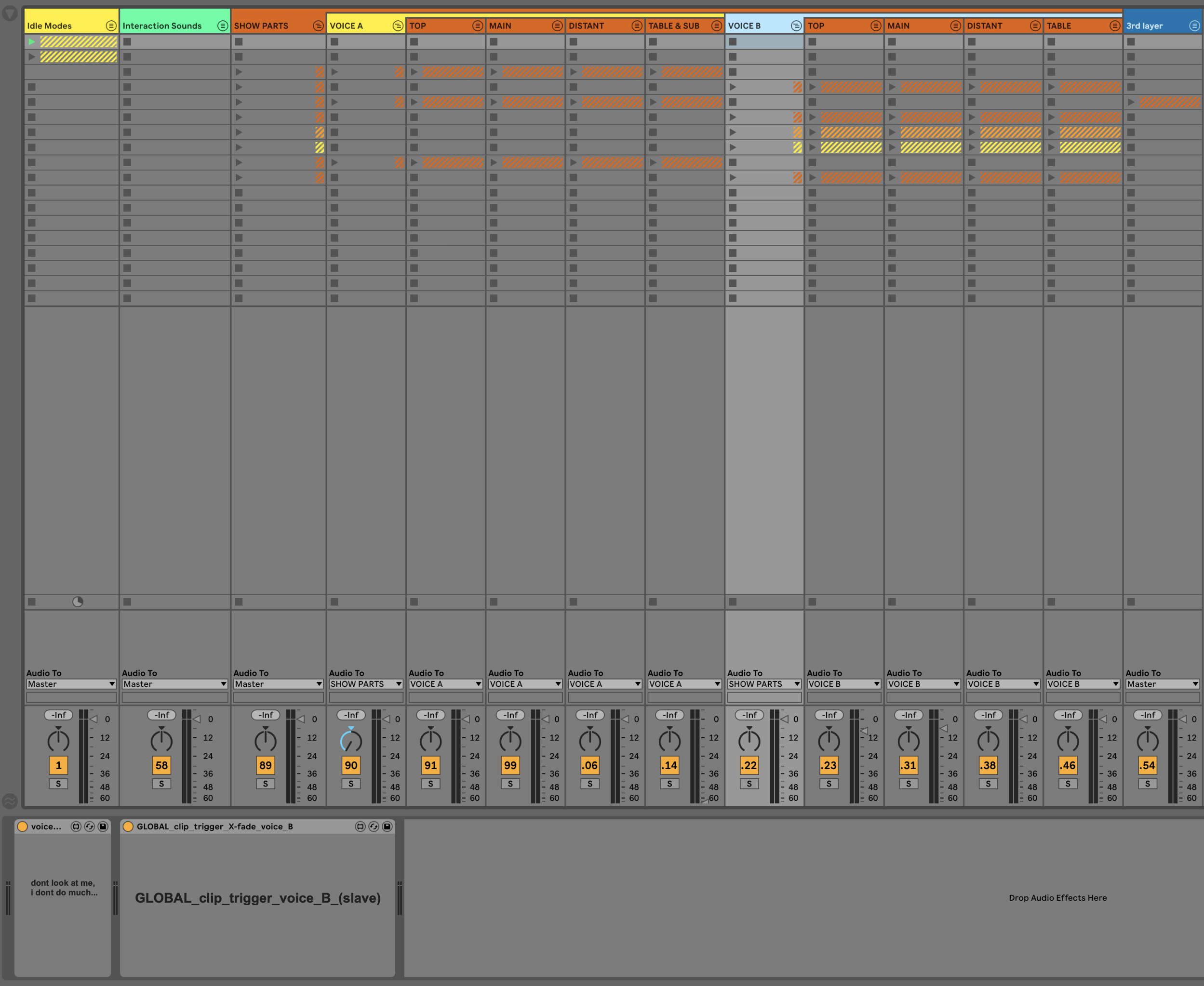 the two crossfadeable sub groups and their Max4Live devices
concept, design, programming: Steve Valentin, on behalf of Idee&Klang